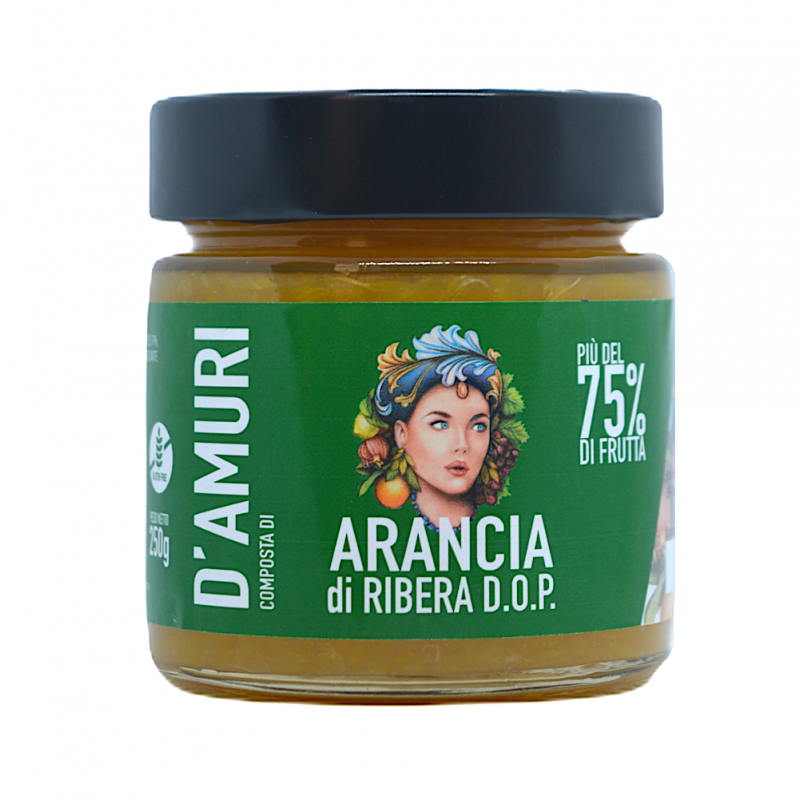  
"Ribera" Orange Gourmet Jam D.O.P. Gourmet Jam
Ribera Orange Compote D.O.P.
Ingredients: Ribera Orange D.O.P. (75%), sugar, lemon juice, gelling agent.
To make our ORANGE COMPOTE of Ribera D.O.P. d'Amuri only the best Ribera DOP oranges were collected and selected; these citrus fruits develop a unique internal pigmentation, with a delicious taste.
Tips: Orange compote is ideal for coffee-based desserts, to be added to yogurt and to stuff tarts. It also goes perfectly with fresh goats. Gluten free
Gluten free
SHIPPING COST
Shipping is free in Italy for orders over 77 €. For lower orders it costs 9 €
PAYMENT
You can pay by credit card, bank transfer or Paypal
ORDER AND INFO
You may order your food and wine by whatsapp at +39 3280173896 or by mail at info@insicilia.com
THIS FOOD AND BEVERAGE IS 100% ITALIAN GOURMET AND IT IS MADE IN ITALY (SICILY)
TIME OF DELIVERY
About 5-15 Days. Delivery time may vary for each destination.
GIFTS AND BASKETS
You can order both privately and from company. You can customize and send baskets and gifts
---