SHIPPING AND DELIVERY
Shipping and delivery of Sicilian Italian Gourmet food from our shop online insicilia.com
SHIPPING ORDERS OF ITALIAN GOURMET FOOD: WHERE CAN WE
SHIP?
InSicilia.com is an online store for the sale of typical Sicilian food and wine, liqueurs, spirits and Sicilian beverage. Traditional Italian Sicilian Gourmet food is made and packaged in Sicily by 50 Sicilian companies. InSicilia has a catalog of over 500 food and wine products that can be purchased online and shipped all over the world. We want representing some of the main Sicilian gourmet food and wine excellences.
INSICILIA thanks to several agreements with freight forwarders and brokers can ship worldwide. With those who send insicilia.com GLS, SDA, Bartolini, TNT, Fedex, UPS, MBE carrier.
WITH WHOM WE DELIVER YOUR ORDERS AND THE PARCEL?
The parcel purchased are shipped with the main national and international shippers and carriers, such as UPS, SDA, TNT, Bartolini, Fedex, DHL. For non-EU shipments we rely on the intermediation of international brokers who deal with the customs clearance of goods. We can export to the United States, Canada, North America, South America and to China and in the Arabic countries for example
On insicilia.com you can buy wines, handcraft Beer, Sicilian liquors, Spirits, typical Sicilian sweets, preserved food, seasonings, fish, tomatoes, almonds, pistachio nuts, hazelnuts, oranges, lemons.
You will also be able to buy gluten-free food, vegan and organic food. Your will receive your parcel on 3-15 days (depends from your country). We will send your parcel after receiving your payment (by PayPal or Bank Transfer or credit card).
We are many international partner to handle customs practices for not Union European Country. We may export our food in USA, Canada, Cina, South America and more other countries.
If you need any further information about shipping to your country write us on: info@insicilia.com or write us by whatsapp o WeChat on +39 3280173896

WE OFFER FREE SHIPPING. IT DEPENDS FROM YOUR COUNTRY:
For orders of an amount lower than these three bands the shipping costs are divided as follows:
35 Euro for Europe EU
45 Euro Great Britain and Ireland, Sweden, Norway, Finland
45 Euros for non-EU European countries
50 Euros Malta and Switzerland
60 Euros Rest of the World
Shipments of alcohol can be taxed by individual countries and any taxes or fee will be communicated to the customer. If the customer does not want to face the cost of alcoholic taxation, the order will be refunded at no additional cost. After paying the alcoholic taxes by direct payment, the customer will regularly receive the alcohol ordered.
To buy wines, liquors or spirits, may be necessary to pay any international custom costs (FDA costs for USA and similar costs for others countries)
If you need any further information about shipping to your country write us on: info@insicilia.com or write us by whatsapp o WeChat on +39 3280173896
Sometimes we can send your parcel on two distinct orders placed separately. We use special attention in case of breakable objects. Boxes are sized appropriately large and your articles are well-protected.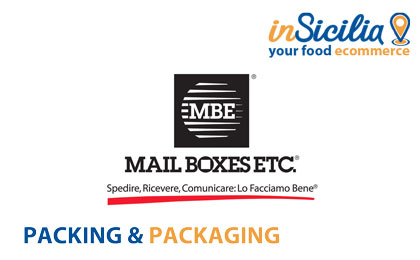 PACKAGING
The packaging of the products and logistics is entrusted to the MBE Mail Box Etc circuit and to our internal logistics, a choice aimed at ensuring high standards of packaging and packaging of the goods purchased and maximum reliability for the correct protection of the products purchased.
DELIVERY TIME
The parcel ordered on insicilia.com are sent to the destination within 3 - 15 days from the payment. Some more complex orders or in some cases of unsolicited supply of goods may cause deliveries of a few days up to 15 days. Any delays are always handled guaranteeing customers adequate compensation through the reimbursement of the amount spent, additional goods or personalized discount vouchers.
If the orders are outside the European Union we will take care of the customs procedures and the delivery time could be longer (up to 20 days)
SHIPPING COSTS ARE FREE:
InSicilia provides a minimum order to receive typical Sicilian products without shipping costs to be paid by the buyer. Here are the rates:
In Italy for orders of at least 77 euros.
In Europe and Worldwide at the moment there is not free shipping