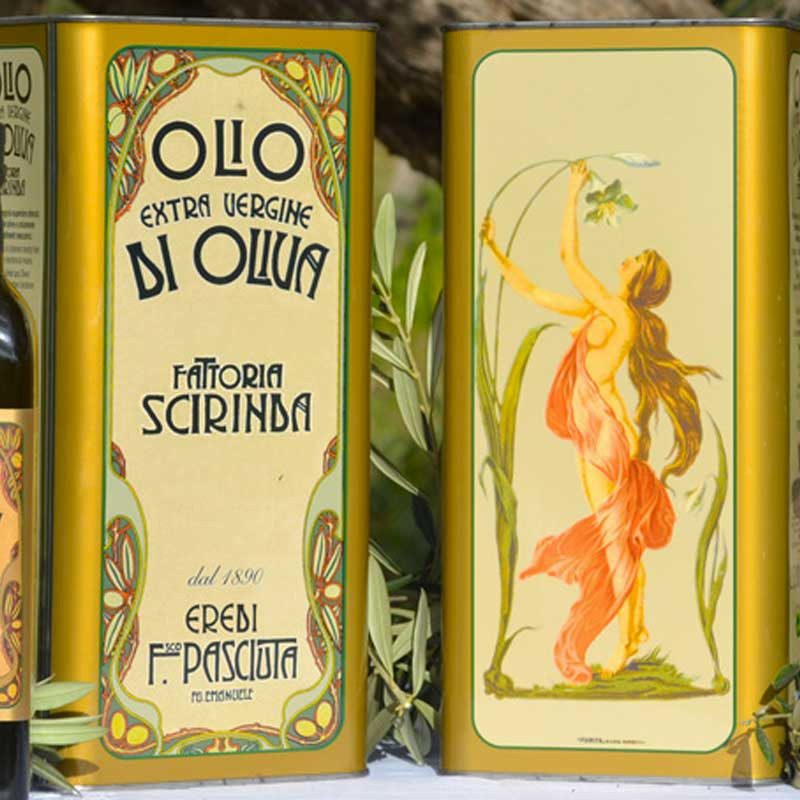  
5 liter (175.98 OZ) Extra Virgin Olive Oil in Elegant Tin from Sicily
5 liter (175.98 OZ) Extra Virgin Olive Oil from Sicily
An elegant silk-screened tin are typically Sicilian chromatic and iconic solutions
The extra virgin olive oil of the Scirinda Farm has a clean, harmonious and balanced taste, gives a unique aroma to the dish; enhancing the flavors of the dish. It has a fruity flavor, with hints of artichoke and a grateful taste on the palate; green-gold color and fragrant smell. Superior category olive oil obtained directly from the Biancolilla and Nocellara cultivars, solely by mechanical means.
Taste
The freshly milled oil has an intense aroma of grass, leaf and green olive, while the flavor is reminiscent of artichoke and almond, with a slightly spicy aftertaste. After decanting, after a few months, it has a less pronounced aroma, in which the green olive prevails and a flavor, with an almost sweet aftertaste, reminiscent of ripe tomatoes
Oil made entirely from Italian olives from Ventimiglia of Sicilia. The shredding of this oil takes place within 12 hours of collection, this type of processing is known as the term "cold squeezing". The oil color is emerald green with golden reflections. The taste of this extra virgin olive oil is medium-intense fruity with retouching of artichokes, almonds and fresh herbs. This oil leaves a fresh balsamic palate, ideal for raw, to be combined with fish appetizers, soups and red meat. Extra virgin olive oil is also used, instead of butter, for confectionary use in cookies, cakes and cakes.
Nutritional declaration
Energy value: 3692 kJ / 898 kcal
Fat: 99.8 g of which saturated: 16.1 g
Carbohydrates: 0 g of which sugars: 0 g
Protein: 0 g
Salt: 0 g
Values referring to 100 g of oil
Data sheet
Product type

Extra Virgin Olive Oil

Ingredients

Olives

Capacity of the bottle

5 liter
SHIPPING COST
Shipping is free in Italy for orders over 77 €. For lower orders it costs 9 €
PAYMENT
You can pay by credit card, bank transfer or Paypal
ORDER AND INFO
You may order your food and wine by whatsapp at +39 3280173896 or by mail at info@insicilia.com
THIS FOOD AND BEVERAGE IS 100% ITALIAN GOURMET AND IT IS MADE IN ITALY (SICILY)
TIME OF DELIVERY
About 5-15 Days. Delivery time may vary for each destination.
GIFTS AND BASKETS
You can order both privately and from company. You can customize and send baskets and gifts
---