Back

Gourmet Food

Dolci Siciliani della Tradizione

Preserved Food

Cannolo & Cassata Dessert

Dolci Siciliani della Tradizione

Sauces & Condiments

Pasta

Sicilian Pantry

Dispensa Siciliana

Beers

Beverage and Soft Drink

Wine

Spirits

GOURMET SELECTION

Migliori Venditori

Arancino

It is a Special Ale beer with an...

 Craft Beer Wheat Ale At The 5...

75cl India Pale Ale Bottle Craft...

Pancetta

The Sicilian Cannolo made with...

Pancetta

Sicilian Marzipan Martorana Fruit on...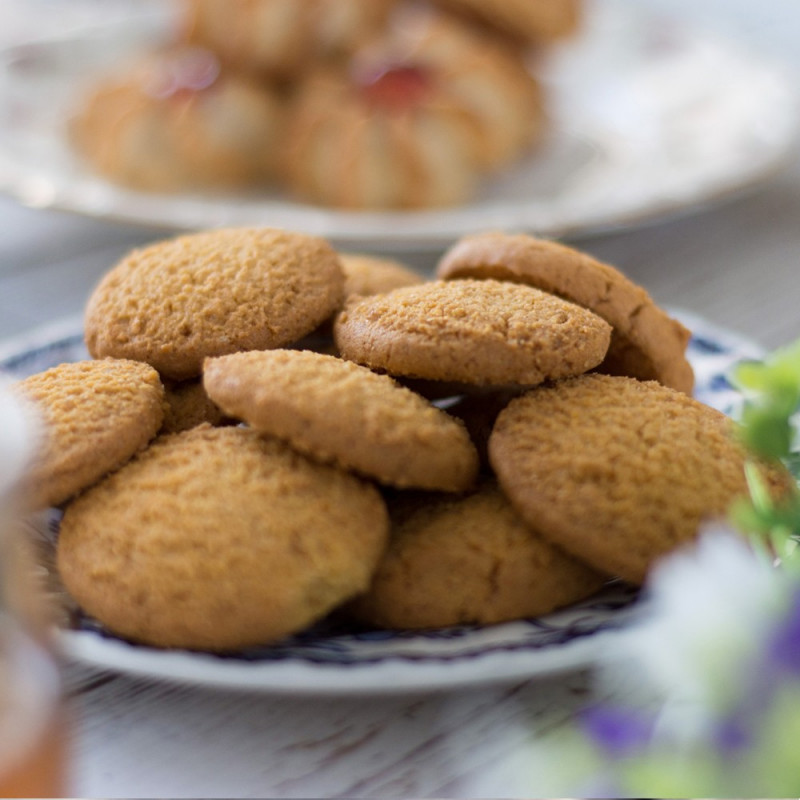  
Wholemeal biscuits gluten free 220gr
Wholemeal biscuits gluten free 220gr
Multi-fiber biscuits made from whole wheat flour, buckwheat, honey and cane sugar. Our biscuits dress up "the places of Montalbano", that is, the symbols of the province of Ragusa to homage our territory. Integral Biscuits lead us to visit Piazza Fonte Diana in Comiso.
INGREDIENTS:
Rice flour, corn starch, cane sugar, eggs, whole wheat flour 10%, lard, buckwheat flour, potato starch, flavored pasta (glucose-fructose syrup, sweet skimmed milk, sugar, yol 'Eggs, flavors, beta-carotene dyes, modified starch, salt), egg yolk, honey, thickener: carrube seed flour, yeast: (sodium pyrophosphate, sodium bicarbonate, cornstarch) E464 , Aromas. It may contain traces of: nuts (hazelnuts, nuts, almonds, pistachios), milk, sesame, soy.<7p>
Energy value every 100gr
Kcal 446.7 Kj 1879.6
Fat g 13.2 - 0.46 oz
Of which: saturated g 5,2 - 0,18 oz
Carbohydrates g 79.9 - 2.60 oz
Of which sugars g 19.9 - 0.70 oz
Food fibers g 4,4 - 0,16 oz
Protein g 5.9 - 0.21 oz
Salt g 0.2 - 0.007 oz
Data sheet
Product type

Baked product

Package

220 gr

Origin

East Sicily

Shelflife

12 Months

Type of Production

Handcrafted Product

Storage

In a cool and dry place

Biscuit type

Gluten-free integral cookie

Gluten Free

Yes. This product is suitable for a gluten-free diet. Product 100% gluten free
THIS FOOD AND BEVERAGE IS 100% ITALIAN GOURMET AND IT IS MADE IN ITALY (SICILY)
SHIPPING COST
Free Shipping if you purchase over 150 in Europe, 180 United Kingdom, 350 in the all over the world
ITALIAN SICILIAN GOURMET FOOD
More than 600 traditional Italian Sicilian Gourmet Food and Wine to buy at the best prices.
PAYMENT
You can pay by credit card, bank transfer or Paypal
ORDERS AND INFO
You may order your food and wine by whatsapp at +39 3280173896 or by mail at info@insicilia.com
About 5-15 Days. Delivery time may vary for each item.
GIFTS AND BASKETS
You can order both privately and from company. You can customize and send baskets and gifts
---