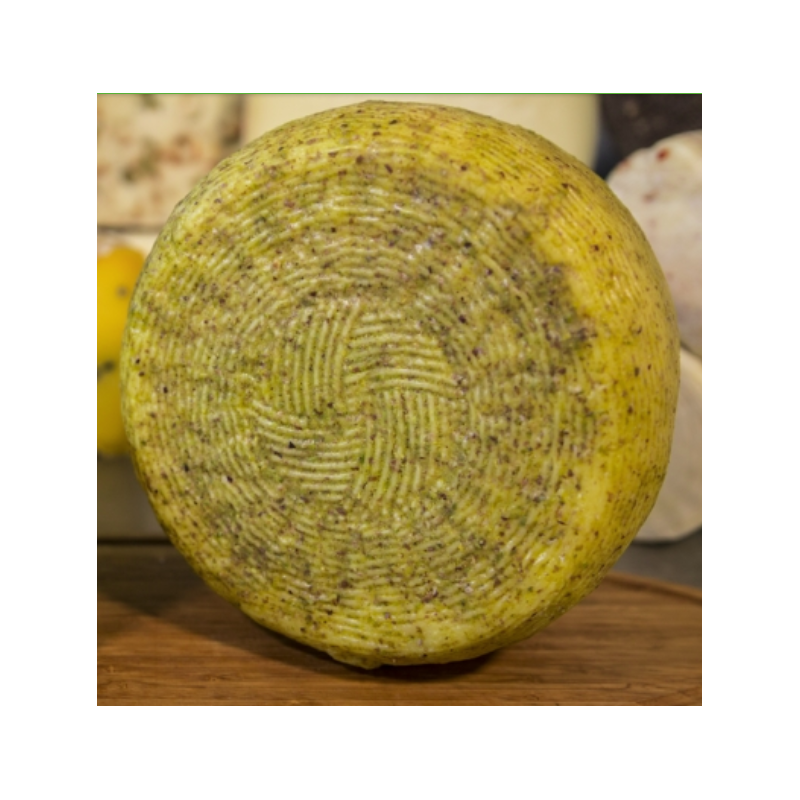  
1kg of Sicilian Semi-mature Pistachio Cheese
Il Verde cheese is a semi-matured table cheese, it is produced in the mountains with milk from sheep that feed on spontaneous forage.
After about 20 days of maturation, it is covered in ground pistachio crust and is ready for consumption. Its taste is sweet and aromatic (due to the presence of pistachio), the dough is soft and slightly friable.
Data sheet:
Product identification Cooked white or straw-colored cheese
Raw materials used Pasteurized whole sheep's milk, lactic ferments, rennet, salt, PISTACHIO 1.5%, oil, covered with PISTACHIO grains
Organoleptic characteristics
Color: yellowish white with a rough surface
Odor: strong
Taste: delicate
Heat treatments Seasoning 20 days
HACCP quality checks on the entire production process and on the finished product, in compliance with ECE Regulation 852/04 and 853/04
Shell life 320 days
Storage method 5-6 ° C
Consumer unit 4.00 kg
Trade unit Carton
Label formulation The label is identified by the following wording: progressive number identifying the production lot to which correspond x number of labels, expiry date,
Packing features Vacuum bags
Data sheet
Product type

Cheese

Ingredients

Pistachio

Package

1 Kg
THIS FOOD AND BEVERAGE IS 100% ITALIAN GOURMET AND IT IS MADE IN ITALY (SICILY)
SHIPPING COST
Free Shipping if you purchase over 150 in Europe, 180 United Kingdom, 350 in the all over the world
ITALIAN SICILIAN GOURMET FOOD
More than 600 traditional Italian Sicilian Gourmet Food and Wine to buy at the best prices.
PAYMENT
You can pay by credit card, bank transfer or Paypal
ORDERS AND INFO
You may order your food and wine by whatsapp at +39 3280173896 or by mail at info@insicilia.com
About 5-15 Days. Delivery time may vary for each item.
GIFTS AND BASKETS
You can order both privately and from company. You can customize and send baskets and gifts
---